UC DAVIS Researchers hone in on Angelman Syndrome Treatment
FAST (Foundation for Angelman Syndrome Therapeutics) has funded two research labs at the University of California, Davis (UC Davis) to further investigation into gene editing for Angelman Syndrome. One funded project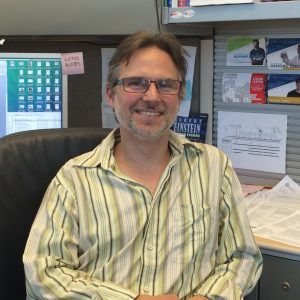 continues the evaluation of
Artificial Transcription Factors
(ATFs or Zinc Fingers) for the treatment of Angelman Syndrome (AS) in Dr. David Segal's laboratory (pictured left), and the other project, in Dr. Joe Anderson's lab, will evaluate a
gene therapy strategy
using
progenitor
cell (HSC) and virus vector delivery.
This multi-strategy approach involves a cohesive group of scientists working together under one roof to push potentially life-changing therapeutics to our children.  In addition to the nearly $1.75 million funded by FAST, the UC Davis team was awarded another $1.1 million through the California Institute for Regenerative Medicine (CIRM). This award was based on Dr. Segal's preliminary promising results in gene editing and this research was funded by FAST.  Together, nearly $3 million is being invested at UC Davis, in finding a cure for AS.
What are
ATFs or Gene Therapy
? We have already talked a bit about
gene therapy
, please refer to this blog:
The FIRE team of FAST turns on Ube3a in mice with Angelman Syndrome.
The project at UC Davis that is evaluating
progenitor
cell (HSC) and virus vector delivery is a novel approach to gene therapy for AS using cells from an individual's own bone marrow to deliver the
UBE3A
gene into the brain.  This strategy has been very promising in other diseases of the brain and we are hoping for similar results in Angelman Syndrome
.
ATFs
, otherwise known as Artificial Transcription Factors or Zinc Fingers, falls into a category known as "gene editing." In Angelman Syndrome, we can use ATFs to turn on the normally silenced copy of the gene that is on the paternal (father's) chromosome 15.  Remember that in AS, the maternal copy is not working because it is either missing, mutated, dysfunctional or turned off. The father's copy is normal and present, but it is silenced in all humans due to a phenomenon called "imprinting." ATFs have the ability to un-silence the paternal copy of
UBE3A
. Last year, Dr. Segal published a paper showing full expression of
Ube3a
in the brain of adult mice using a simple subcutaneous injection (like insulin injections) of his ATFs (
https://www.ncbi.nlm.nih.gov/pmc/articles/PMC4786922/
). Figure 1 below illustrates the global expression of
Ube3a
after treatment with Dr. Segal's ATF. FAST has, and continues to support Dr. Segal's work and will now focus on symptomatic rescue in animal models of AS.  This ground-breaking work led to additional funding from, the California Institute for Regenerative Medicine. Through a
substantial grant to FAST from the Marnier Lapostolle Foundation
, this preclinical work is being expedited to evaluate it's potential for clinical trials.

Figure: the right fluorescence is showing global distribution of the ATF in the brain of a mouse with Angelman Syndrome after ATF treatment (TAT-S1) compared to no treatment (NT).
Read more about the work being done at UC Davis here...