By Deanna McCurdy
I am frequently asked two questions:  "Why do you run?" and secondly, "What's your secret to doing what you do?"  My running "career" began in high school when I ran track and cross country.  I was given a scholarship to run cross country at the University of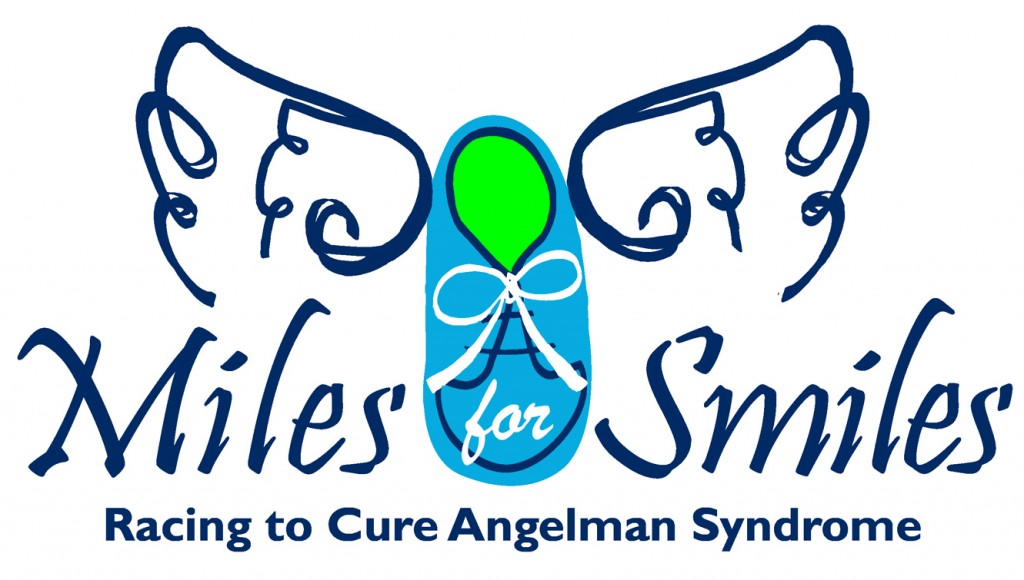 Evansville, a small division I school in southern Indiana.  I was a mediocre relative to most Div. I intercollegiate runners, but stuck with it through my college career as a means to travel the Midwest on weekends, eat free food, and pay for books.  After college, I thought of giving up running and being a "normal" 20-something, living in Cincinnati, Ohio at the time, staying out late on Friday nights, sleeping in Saturday mornings, but something kept nagging at me.  Something kept telling me that God had given me a talent and I was supposed to use it.  I didn't fully understand this thought, but continued to run, trusting that a bigger picture would eventually be revealed to me. I ran my first marathon, the Flying Pig in Cincinnati, in the spring of 2000, just weeks before moving back to the Atlanta area, placing in the top 10 overall females, but finishing injured and completely burnt out.  Within months of relocating back to the South, I met my husband, David McCurdy, who was also from my hometown of Peachtree City, Georgia.  He introduced me to mountain biking, hiking, camping, and all sorts of adventures that we experienced together.  Through him, running, especially on trails, became fun.  In 2005 we gave birth to our first daughter, Hailey.  She is so much like the two of us, full of energy, creative, and a lover of sports.  After her birth, we backed off competing in races, but continued to run for health and fitness.  I coached a Girls On the Run group and would practice with the 8-10 year old girls while Hailey, age 2 and team mascot, would run around the fields as the girls trained.  I began to think, maybe this is what God intended me to do with my running abilities.  About the same time as I allowed that thought to develop, we found out we were pregnant with our second child. In March of 2008, I gave birth to a sweet little girl, Hayden Grace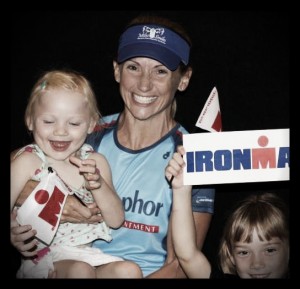 .  Little did I know this bundle of joy would change our world forever.  Hayden stopped breathing at home when she was a week old.  We were rushed to Scottish Rite Children's Hospital and spent the next 10 days with eyes fixed upon her, watching her every breath, waiting for answers.  We were sent home with a cart full of monitors and medications, and with the diagnosis of severe reflux with aspirations to the lungs.  For the next four to six months, my husband and I slept in shifts every two hours.  Poor Hayden rarely slept and was continuously plagued with sinus and ear infections as well as bouts of pneumonia.  Through all of this though, she constantly smiled and rarely cried.  I would drag myself out the door for a run, seeking solace and prayer time on the trails, often times crying out to God in anguish, wanting to know why he would make such a beautiful little child suffer so much.  By the time Hayden was 9 months old, we began to notice that although Hayden could sit up by herself, she made no attempts to crawl, talk or explore the world around her.  She would sit in the middle of a room for hours, perfectly content mouthing the toys around her, laughing and just being her happy little self.  When Hayden was 16 months old, we finally got in to see a pediatric neurologist and learned that her happiness could be a symptom of her problem.  Further testing confirmed Hayden had Angelman Syndrome (AS).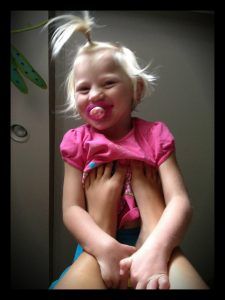 We moved back to Peachtree City, Georgia with our girls in December 2009, wanting to give our girls the type of childhood life that both my husband and I had. We joined our local running and triathlon clubs, looking forward to getting involved and giving back to the town that had given us so much.  Dave and I were far from triathletes and the thought of swimming in a lake sent shivers up my spine.  I struggled through panic attack upon panic attack each time I attempted to swim in Lake Peachtree, our local lake, remembering the water snakes I would see swimming around while fishing there as a little girl.  I think I would have quit that sport completely had it not been for that little voice in my head that kept telling me to continue.  I completed my first triathlon July 2010 in Blue Ridge, GA, finishing 2
nd
in age group, 8
th
overall.  The following month I came in 1
st
in age group at the Peachtree City Sprint Triathlon, then 1
st
Overall Female a few weeks later at the Calloway Gardens Triathlon in Pine Mountain, GA. John Waller, a local Christian artist, wrote in his song "While I'm Waiting," "I will run the race even while I wait."  For many months those words would ring in my head as I went out for a run.  With three years of sleepless nights, the worry and struggles of raising my little Angel, I felt the need and calling to take those lyrics to heart.  What has unfolded since then has been an amazing journey of hope, faith, and self discovery. We kicked off Team Miles for Smiles, a charity running team, in January 2011.  Over the past year, we have grown to over 70 members, many local, but others from as far away as New York, Texas, Colorado and even Australia – thanks to social networking and internet technology.  We have raised over $70,000 for the Foundation for Angelman Syndrome Therapeutics (FAST). My goal for Team Miles for Smiles is not only to continue to ra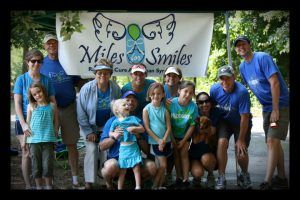 ise money to fund research, but also to encourage people to set a goal that they once thought impossible and help them reach it.  I have been blessed to see parents of children with Angelman Syndrome cross the finish line full of smiles and tears themselves, friends and neighbors finish their first 5K, triathlon or marathon.  I think I am almost as excited as they are when they achieve their goal.  My own personal goal in 2011 was to complete my first ½ Ironman distance triathlon, Augusta 70.3.  I began training in January 2011 and God began to test my strength almost immediately.  Hayden suffered constant seizures for almost a month in January after battling a four week sinus infection.  My husband, who is in the financial industry, went through several job changes as well during the year.  When I entered the water for the Peachtree International Triathlon in May, my first international distance tri consisting of a 1500m swim, 25 mile bike and 6.2 mile run, it was almost a relief.  Finally I was doing something that I realized I loved in the town that I called home.  Our Miles for Smiles team was in charge of a water station on the run course of the triathlon.  When I approached them, I was overwhelmed by the number of supporters we had there, sporting their bright blue Miles for Smiles shirts, all cheering and encouraging.  I crossed the finish line and learned that I had finished 2
nd
Overall Female, only 5 seconds behind the winner.  In August, I raced the PTC Sprint tri again, again finishing 2
nd
Overall, 10 sec out of 1st.  It was such an honor to be part of the largest Sprint triathlon in the Southeast. I finally raced in my personal goal race, Ironman Augusta 70.3 September 21, 2011.  The race began at 7:30am, but because of how it was set up with over 3,500 participants, my swim wave didn't begin until after 9am.  As I watched the athletes before me begin their race, calm came over me.  No longer was I anxious about swimming in the Savannah River, worried about the heat of the hot September day or if could even finish the race.  Over 40 people had donated to my fundraising and I had surpassed my original goal of raising $3,000 by over $4,500 more.  It was now time for me to do what I could do, to make them proud, to swim 1.2 miles, bike 56 miles and run 13.1, for my sweet little girl.  I made it through the swim, and happily passed people all along the bike course, reflecting on how much fun it was to be touring the Eastern Georgia/South Carolina countryside.  As soon as I began the run though, I discovered what so many of those tests God had been giving me were all about.  Temperatures soared to above 90 degrees and the sun came beating down.  I shuffled along, having no idea what my pace was, feeling my skin alternating between goose bumps and tickling numbness.  I hunted down water and ice at each water station, ready to be done, but never thinking of quitting.  I spotted my husband sporting his Miles for Smiles shirt all along the run course, taking photos and even once I saw him holding Hayden's hand while she was attempting to walk (Hayden, 3 1/2 at the time of the race, had taken her first independent steps only a few weeks before, but was still quite wobbly).  I crossed the finish line in 4 hours, 52 minutes, learning only later that I placed 2
nd
in my age group and was the 5
th
Overall (non-professional) Female.  I earned a spot at the Ironman 70.3 World Championships in Las Vegas September of 2012. Hayden, like her fellow angel friends, works so hard every day to accomplish things that many take for granted.  The sport of triathlon for me is similar to our journey with Hayden.  I am not a swimmer, and have to work so hard to find my way in the water, trying to swim in a straight line.  Some days my head is barely above water.  Other days though, I begin to feel like I know what I am doing -- then out of nowhere a wave hits me in the face when I am about to take a breath!  Life can be incredibly tough, but the shore is just ahead and we will keep pushing forward until we get there. I look forward to the bike section of this racing journey with Hayden -- working hard, peddling up and down the hills.  Biking for me takes a lot of time.  It is long, tedious, hard work, but fun and rewarding, especially flying down the hills!  I relate this to the time--hopefully soon--when we get to teach Hayden how to speak with words, how to read and write and play--just like her peers.  It is not a question of "if" AS will be cured, but rather "when" it will happen for our children. The final leg--the Run!!!  How I love the run!  Running is part of who I am and have always been--a talent God gave me, but I hadn't fully understood the gift and its purpose.  I can not wait to share the run with Hayden and watch her fly!  I am sure once she starts running, she will never stop!  Such an amazing story and life she will have to share with the world. I am truly grateful for my family, my abilities, and for the life God has given me.  This life is not easy by any means, but my "secret" is one that any Angel parent can relate to.  We have learned how to dig deep, much deeper than we ever imagined we could and accomplish so much more while appreciating every little step of the way.  These sweet, beautiful angel children truly are giving us all wings to fly.
More reading -
Miles for Smiles Website
Heart of Gold - a beautiful article on Deanna in the Fayette Woman magazine