Angels in the City - Celebrating Angelman research in Los Angeles
By Lauren Hoffer
[caption id="attachment_39370" align="alignleft" width="188"]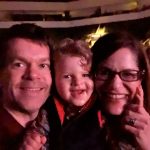 Greg, Ben & Lauren Hoffer[/caption] Getting out of town is hard.  I don't need to tell any of you this.  The day before we left, Greg looked at me and said, "Today is going to be painful."  We had fast and furious workdays squaring things away.   We did the usual parenting gig; "keeping the babies alive" we call it.    We left notes all over the house for my parents, who were staying with our two boys.  We wrote a schedule.  We prepped Ben's LGIT meals and mashed up Charlie's.  (8 months).  We filled Ben's syringes.  We cleaned the house for guests.  We packed.  I spray painted my gray roots "dark blonde" for failure to get to the salon.  And a gillion other things. But, Friday morning, we got on the plane.  Paula Evans and Maiddy Dunigan arranged everything.  Our eventless flight led us to the Beverly Hilton where we dropped our bags and met Hilary and Christian Hommes, Erin Jinkens and her friend, Jodi Morris, for a fun lunch.  And then… We.  Took.  A.  Nap.  In a dark hotel room.  In the afternoon.  On a workday.  I wondered how bad it would be to just stay in bed the whole weekend. [caption id="attachment_39371" align="alignright" width="300"]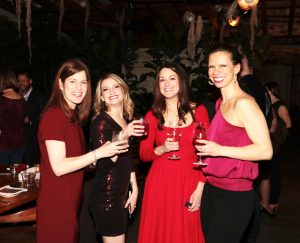 (L-R) Lauren Hoffer, Erin Jinkens, Cori Corvino & Amelia Beatty[/caption] We rallied.  We showered and spruced up.  I even put in contact lenses.  The crew met in the lobby. Colin arranged for a party bus.  The atmosphere was lively and light with an air of excitement and "special event."  We arrived to a
beautiful
private, outdoor / indoor space; with the LA weather, it was hard to tell which it was.  As you'll see in the pictures, it was lined with vines and peppered with hanging lanterns.  Cocktails arrived. Dr. Dindot was there.  I grabbed Greg and made a beeline.  To those that do not know me, I am a trial lawyer.  I put on my best cross examination hat and started in – paraphrasing,  "Exactly how good do you feel about this ASO therapy?"  "It's amazing science."  "How sure are you it will translate to people from animals?"  "We won't know until we put it in a human, but I feel good about it."  "What about the UPD kids; our kid is UPD – have you forgotten about him?"  "No.  We haven't forgotten about any of the genotypes."  "Are you sure?"  "Yes.  When do we start drinking scotch?"  We literally backed him into a corner; actually, it might have just been me.  But let me kid you not, he was super gracious and personable.
Colin was taking pictures with all.  But we missed it – too busy with the inquisition.  We took a group picture and then were seated across from The Paula.  I felt very lucky.  She graciously answered the same questions with which I'd just grilled Dr. Dindot.  (Same answers.)  And she told me the history of FAST.  I slurped up every drop.  At this point, no one at the party thinks I understand the definition of party.  I'm too focused.  BUT… drinks came… beautiful food came… crab claws… we chatted with Paul Beatty about life at the State Department and Sam Maydew about life in Hollywood. We heard about everyone's kids and got new tips.  We asked to take our picture with Colin after he was finished taking pictures.  He was so kind.   And both Greg and I saw the star quality.  He is a bright light. There were toasts and revelry, questions to Colin and Paula, and the night went too quickly.  But still it is etched in my minds' eye and will not soon be forgotten. Saturday was a great LA day.  We slept in, a first since the baby was born in June.  We got Jewish deli with old friends.  (The ones who knew me when I knew how to party.)  We crossed the Getty off my bucket list; gorgeous, gorgeous grounds.  We had a drink and snacks at a swanky place on Santa Monica beach followed by a beach and pier walk.  There might have been a giant jungle gym swinging.  We met part of the FAST group for a fun Asian dinner.  We dove into bed and slept more. We capped off our trip with breakfast at Eataly; yet another place I'd been wanting to see and a quick plane ride home to find all had happily survived our absence.  I loved describing everything to my family, a little wistful that they too had not had the experience.  Our CAN page was a 6 month family effort; my sister opened Ben's page to solicit donations for his first birthday in March, and my mom sent her last email seeking them on September 30.  But they were happy to hear about it and to have had time with the boys. All in all – it was a memorable, relaxing weekend.  We left it feeling incredibly upbeat about Ben and our future.  We left it feeling closer to and thankful for the AS community and so grateful that those before us started FAST and things are so far along.  We raise money for FAST to do our part to fund a cure for Ben, not to win a dinner and a trip.  But it sure was a great perk.  Thank you FAST!
Click here to view the other great images from the night.