Angel Runners LA Marathon
by Jason Bernstein
On March 1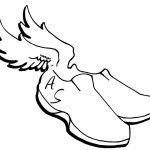 8, 2012, the 27th edition of the
LA Marathon
was run through the City of Angels. Timothy Misiak, Mary Fasang, Chad Dunigan, and I raised over $1,000 for the Foundation for Angelman Syndrome Therapeutics (FAST). We weren't the only people running for charity. 
American Idol
winner, David Cook, would run the LA Marathon for Accelerated Brain Cancer Cure (ABC2).  David sang the song "Time of My Life" written by Regie Hamm. Regie has a daughter with Angelman Syndrome. [caption id="attachment_199" align="alignright" width="179"]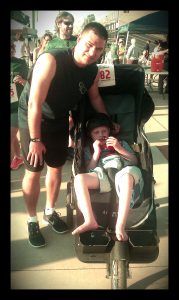 Jason Bernstein and his inspiration, Reece[/caption] I had wanted to back out on this trip several times due to lack of funding, lack of training,and a lack of motivation. I had taken on a new job with the Air Force, and had been extremely busy. The total cost for registration, lodging, airfare, airport parking, and meals would be around $900. Two days before my trip I received a deposit of $866 for money I had earned on a previous trip with my work. Exactly the amount I needed.
16 MAR 12
– I quickly typed up a press release titled
"Battle of Los Angeles takes place one step at a time"
and uploaded it to the internet, then packed my bags, and  left the house. I drove out to Qwik Park and dropped off my car. They shuttled me over to Detroit Metropolitan Airport (DTW) to catch a plane with Frontier Airlines at 4:11 pm EST. I had never flown this airline, and was a little nervous. I kept thinking that maybe I shouldn't have gone with the cheapest flight on Priceline. I checked in my bags and the lady handed me my boarding pass and politely told me to "head to gate 16F for Flight 666." I think my heart stopped for a moment. I looked down to see it was Flight 626, not 666. I would end up having a layover in Denver before reaching my final destination at Los Angeles International Airport (LAX) at 7:42 pm PST.  I took the Super Shuttle from LAX to my LA hotel. It wasn't the nicest place I had ever stayed, but it was safer than the time that I slept in my car in downtown Detroit. [caption id="attachment_200" align="alignleft" width="240"]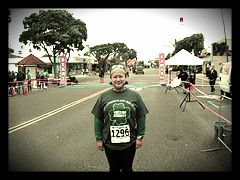 Mary Fasang in Redondo Beach[/caption]
17 MAR 12
– Mary Fasang ran a St. Patrick's Day 5k in Redondo Beach and received a Personal Record (PR). She then came by and picked me up for breakfast. Afterward we picked Tim up and headed out to the LA Marathon Expo at Dodger Stadium to pick up bibs. We spent the day laughing, having lunch, and getting to know one another. Mary would be running in honor of her niece, Jade. Tim would be running the race in honor of his cousin's daughter, Kyla Hunter. I would be running the race in honor of James, a boy from LA. All three children are affected by Angelman Syndrome.
18 MAR 12
– Game day. Tim and his brother, Robert, came by at 5:15 am to pick me up. We went to Starbucks to continue the tradition we had started at the Detroit marathon. Mary rode the shuttle out of Santa Monica, and met up with us at Dodger Stadium. The weather turned out to be perfect. We had been warned that it would be raining heavily like the year before. The race would begin at the stadium and end at the sea at Santa Monica Pier 26.2 miles later. We would run through Beverly Hills, Hollywood, Chinatown, and other scenic areas.
MILE 3: Tim & I are approached by Steve Mackel; Sole Runners coach in LA. (Go to 3:25) http://www.youtube.com/watch?v=8VdJNffOREs – We give a shout out to FAST.
MILE 9: Janey, a friend of Mary, comes running up with three ice cold 20 oz. Dr. Peppers! These would help propel us 9 more miles.
MILE 11: I stop to pose by the Hollywood Star of Leonard Bernstein.
MILE 16:My left hammy starts to tighten up and I stop to stretch a couple times. Felt like I was about to "hit the wall," which is when your body stops moving and you can't
[caption id="attachment_201" align="alignright" width="240"]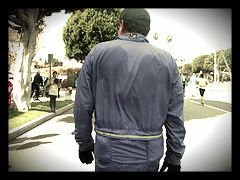 Is it Mickey Mouse?[/caption]
complete the race.
MILE 18:  We made it to the Sole Runners aid station and Mary's friends allowed us to load up on supplies. We ate salty, buttery potatoes, fruit, Pringles, pretzels, and loaded up on fluids.
MILE 23: We laughed all day, but the funniest part was at mile 23 when we saw the man who had sweat in the shape of Mickey Mouse. Mary was running behind him. It didn't help that we were tired and hallucinating at this point.
MILE 26.2: We finish the race at the Santa Monica Pier.  It was a wonderful day where we had the opportunity to raise funds for research and awareness of Angelman Syndrome.
[caption id="attachment_202" align="aligncenter" width="300"]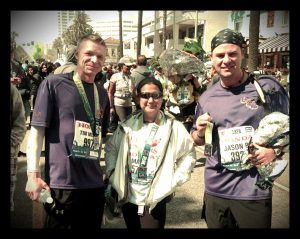 Timothy Misiak, Mary Fasang & Jason Bernstein[/caption]
19 MAR 12
– Met up with Mary at Manhattan Beach to discuss ideas for Phase IV "Running with Angels."
20 MAR 12
– Made it home safely after surviving two bumpy/scary flights back. Completion of Phase III.
www.angelrunners.com