A Message To All Of Our Angelman STARS
Help Ovid Therapeutics Color Our World Beautiful!
An Announcement from Ovid Therapeutics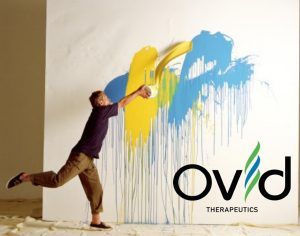 Ovid Therapeutics is working towards initiating its phase II study of OV101 in Angelman Syndrome adults. One step of the process is to name the study and develop a study logo. The study will be named the STARS clinical trial, which is an acronym derived from: Phase 2 Angelman
S
yndrome Clinical
T
rial:
A
R
andomized, Double-Blind,
S
afety and Efficacy Study of Gaboxadol. We believe this name reflects how we feel about our AS friends- brilliant super STARS! The next step is to develop a logo, and we would love for our Angelman community friends to help us! We will be launching the STARS Clinical Trial Logo Contest on May 2, 2016 where designs will be posted on our website and you will be invited to vote to select the design you like the best. The design with the most votes will become the logo we will use for the STARS trial in all online and printed materials. Ovid also welcomes you to submit designs! All members of the AS community are welcome- relatives, siblings, friends, etc. Ovid will review all submissions from the AS community and from free-lance designers and select the finalists. The finalists will be displayed on our website during the voting period where you will have the final say!
How do I submit a drawing?
You will be able to submit your design via the Ovid website
. We will start accepting submissions on April 16, 2016. As of that day you will be able to upload and submit your drawing. We will stop accepting submissions midnight EST April 25, 2016. Ovid will then review all submissions and select the finalists.
Guidelines for logo designs
Submit your design/drawing as a .jpg file
Should include no more than 2 colors and be relatively simple and clean
The logo will be used on printed and digital material
The audience will be: AS patients and families, clinicians, and other professionals interested in the STARS clinical trial
Your design should include the word STARS and capture the following attributes

Scientific: OV101 and the study is based on strong, rigorous science
Novel: illuminating the way forward. Pioneers.
Brilliant: AS super star friends are at the core of what we do
Shine: OV101 aspires to help bring the best out of our AS friends
How do I vote?
Ovid will present the finalists on the website on May 2, 2016 and you will then be able to cast your vote. The voting will end May 6, 2016 and we will then announce the winner on our website and social media. For more information on the contest and Ovid Therapeutics, please visit the Ovid website
here.